Shattering Pixels – The Metaverse & Insurance Report Launch
Never miss a recording again; click here subscribe to Z/Yen's YouTube account .
'Metaverse' - interlinked, persistent, shared, artificial reality spaces.
The Metaverse is a collective virtual shared space, created by the convergence of virtually enhanced physical reality and physically persistent virtual space, including the sum of all virtual worlds, augmented reality, and the Internet. Although the Metaverse is still evolving, companies and entrepreneurs at the bleeding edge of technology are getting very excited about it. Move beyond the CGI and flights of fancy and increasingly people are being wrapped in a cloak of internet linked technologies – health and fitness monitors, personal assistants, internet enabled domestic goods, smart TVs and smart watches. The plumbing for the metaverse is rapidly being installed, but how will its users be protected? What challenges does the insurance industry face in mitigating risks for its digital denizens? In this pioneering piece of research, we will explore the scope and scale of the challenge facing the insurance sector as the Metaverse gradually coalesces. What are the risks and how can they be modelled and quantified? What products and services are required? And how can the UK insurance service sector gain first mover advantage in this new space?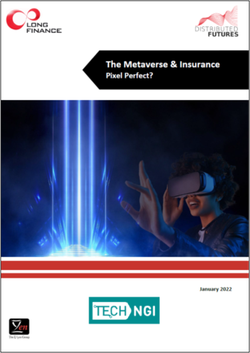 This event launched a report by Z/Yen, sponsored by TECHNGI, "The Metaverse & Insurance - Pixel Perfect?".
Speakers:
Professor Alistair Milne is Professor of Financial Economics at the School of Business and Economics, Loughborough University, He previously worked at Cass Business School, the Bank of England; the University of Surrey, London Business School, HM Treasury and for the Government of Malawi. He holds a PhD in economics from the London School of Economics. He has conducted research for more than three decades on financial technology, bank capital and risk management, macroeconomics and financial regulation. He is the author of a comprehensive account of the 2007-08 global financial crisis "The Fall of the House of Credit". His current research focus on the emerging innovations in banking and insurance including the application of AI, distributed ledger and related data technologies. He is the principal investigator of the TECHNGI project www.techngi.uk part of the £20mn Next Generation Services Research Challenge supported by the UK government's Industrial Strategy Challenge Fund. He has also worked on disaster risk finance https://floodfinjava.lboro.ac.uk/ and this has led him to write on the potential application of insurance solutions to the current Covid-19 and future pandemics.
Professor Michael Mainelli FCCA FCSI(Hon) FBCS, Executive Chairman, Z/Yen Group, is a qualified accountant, securities professional, computer specialist, and management consultant, educated at Harvard University and Trinity College Dublin. Michael gained his PhD at the London School of Economics where he was also a Visiting Professor of Innovation & IT. Michael is Emeritus Professor, Fellow, & Trustee at Gresham College where he created the London Finance initiative asking "when would we know our financial system is working?" His third book, The Price Of Fish: A New Approach To Wicked Economics And Better Decisions, won the Independent Publisher Book Awards Finance, Investment & Economics Gold Prize. Michael is an Alderman and Sheriff of the City of London 2019-2021.
Simon Mills began his career by working as a field botanist on Cloud and Elfin rainforest in Northern Costa Rica. His subsequent career encompassed minerals and highways planning, environmental management systems and sustainable development. In 2000 he became environmental co-ordinator for the City of London, where he established the National Sustainable City Awards and worked on carbon trading, socially responsible investment and climate risk. Following a secondment to Defra in 2010, where he was responsible for establishing the Local and Regional Adaptation Partnership for England, he returned to the City of London as Corporate Policy Manager and Head of Sustainable Development. Since joining as a Z/Yen associate, Simon has worked on mutual distributed ledgers, standards, sustainable business, and policy performance bonds.