Adapt To Survive: Why Oil Companies Must Plan For Net Zero And Avoid Stranded Assets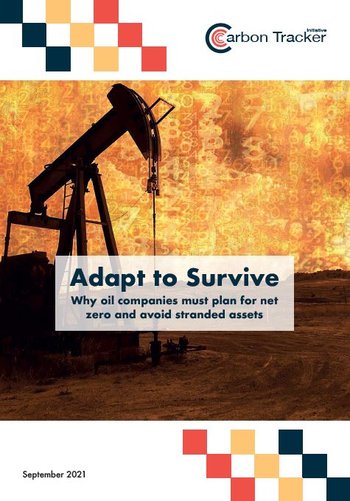 Authors
Axel Dalman & Mike Coffin

Research Organisation
Carbon Tracker Initiative
Report Date
Sept. 15, 2021
Document summary
Carbon Tracker's fifth annual analysis of the risk of investing in oil and gas producers – warns investors that companies have not woken up to the "seismic implications" of the International Energy Agency's finding that no investment in new oil and gas production is needed if the world aims to limit global warming to 1.5°C.
This report primarily focuses on modelling the International Energy Agency's Sustainable Development Scenario (SDS), associated with 1.65°C of warming. It also shows the implications of the IEA's new, more stringent Net Zero Emissions by 2050 Scenario (NZE), which targets 1.5°C of warming. Both scenarios result in net zero emissions, but at different times and through different means.
Under the NZE, production levels in the 2030s of the world's largest listed oil and gas companies drops. For most companies including majors like Shell, Chevron and Eni – production falls by at least half. Most shale companies see production fall by over 80%.