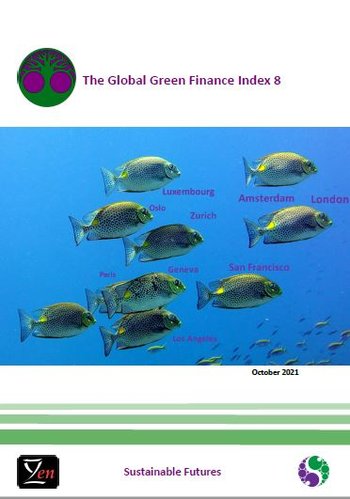 Authors
Mike Wardle, Professor Michael Mainelli, Simon Mills
Published by
Long Finance & Financial Centre Futures (October 2021), 77 pages.
Share on social media:
You might also be interested in:
The Global Green Finance Index 8 - Supplement "COP 26 & Carbon Pricing"
The eighth edition of the Global Green Finance Index (GGFI 8) was published on 20 October 2021. GGFI 8 provides evaluations of the green finance offerings of 80 major financial centres around the world. The GGFI serves as a valuable reference into the development of green finance for policy and investment decision-makers.
The GGFI is compiled using 143 instrumental factors. These quantitative measures are provided by third parties including the World Bank, the Economist Intelligence Unit, the OECD and the United Nations.
The instrumental factors are combined with financial centre assessments provided by respondents to the GGFI online questionnaire. GGFI 8 uses 4,847 assessments from 776 respondents.
In the supplement to this edition of the GGFI, we review the role of financial centres in green finance, and explore the contribution of emission trading schemes to the development of sustainable economies.
Commentary
As ESG analytics and reporting and other aspects of green finance penetrate mainstream financial activity, there is growing confidence in the development of green finance across all regions. Ratings of green finance rose in the majority of centres in the index.
Western European centres continue to dominate the top 10 centres in the index, taking eight of the top 10 places. San Francisco and Los Angeles take the other two spots.
In the next group, New York has gained 18 places in the rankings to 13th place - the biggest rise across the index. Beijing, Shanghai, Seoul, Washington DC, and Singapore have improved their rank, displacing centres such as Helsinki and Munich. These changes show the competitive challenge to Western European centres as North American and Asia/Pacific centres focus more intensely on green finance.
Index Results
London has overtaken Amsterdam to take first place in GGFI 8. Amsterdam is second, with San Francisco overtaking Zurich to take third place.
London may have benefitted from both recent UK government action on green finance, including the issue of the first UK sovereign green bond, and from its position as host of COP 26.
Asia/Pacific centres again performed strongly, with Beijing, Shanghai, Seoul, and Singapore all consolidating gains.
The margins separating centres at the top of the index continue to tighten. Among the top 10 centres the spread of ratings is 25 out of 1,000, compared to 29 out of 1,000 in GGFI 7.